Action for Healthy Kids addresses childhood undernourishment, obesity and prevention by working with schools to help kids learn to eat right and be active every day. This focus is because of the unique position and influence that schools have on children and their families, in addition to their responsibility to provide nutrition and physical education and their many opportunities to promote healthy eating and active living. http://www.actionforhealthykids.org/
School Nurse Online: Health Activities for Kids
Cindy, a girl scout leader shared the following resource: She wanted to show her troopers that their suggestion was up and running to help others. It would also help the girls feel that they contributed positively to the lives of others. We do our absolute best to follow the Girl Scout slogan of "Do a good turn daily." http://onlinedegrees.bradley.edu/school-nurse-online-health-activities-for-kids/
A Kids Guide to Health and the Human Body
http://www.belairdentist.com/a-kids-guide-to-health-and-the-human-body/
Your body is a network of different organs and systems that all work together. Each part of your body must be kept healthy so that you can enjoy doing things like playing with your friends and going to school. It's important to learn about the body and how it works so you'll know how and why you need to take good care of all of its different parts.

Think of the skeletal system of your body like the frame of a house that is designed to hold everything together. This system helps protect your organs and keep them from getting injured. Your ribcage protects organs like the heart and lungs, and your skull protects your brain. The bones of your skeletal system are linked together with cartilage, ligaments, and joints that help your bones move. This very important system in your body is what helps you run, jump, and play, and it gives you your shape: Without bones, you'd be a pile of organs and muscles on the floor! Inside of your bones is a substance called marrow that is filled with red and white blood cells.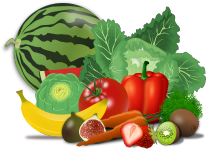 Healthy Nutrition for Your Mouth, Gums and Teeth!
A healthy diet will help your bones and muscles to grow strong and for all of your body's systems to work together, so you can stay healthy. Plus, a healthy diet is necessary to keep your mouth, gums and teeth in good shape, too. Whatever you eat first passes through your mouth, and usually requires some chewing with your teeth and gums. If you choose to eat unhealthy foods regularly, it will be very difficult to maintain a healthy smile, even with good dental practices like brushing and flossing. Learn about the best foods for your dental health to keep all your pearly whites looking and feeling good.
Visit: http://www.dentalcenter-in.com/healthy-nutrition-mouth-gums-teeth/
A Nurse's Guide to Nutrition for Teens: The Food Pyramid/Healthy Eating Plate
https://onlinedegrees.bradley.edu/nursing/dnp/a-nurses-guide-to-nutrition-for-teens/
A Nurse's Guide to Cholesterol and Maintaining a Healthy Diet
https://online.maryville.edu/online-bachelors-degrees/rn-to-bsn/guide-to-cholesterol/