Explore Record Keeping Using Various Styles of Diaries, Journals, or Body Monitoring



Keeping records can be the key to achieving a healthier weight and maintaining it. It can help support your efforts to eat more healthfully and allow you to be more physically active, as well as, help you overcome obstacles that get you off track. Through practicing this process you learn how to be your own lifestyle coach.
Why keep records? Good managers keep records. Come to know yourself and honor you with your choices!
You will see what is happening in your life.

You can identify patterns (patterns of people, places, foods). You will see patterns that promote success and patterns that show you "danger zones"--areas where you get off track.

You are then able to review the facts.

Then you PLAN realistic solutions!
Records help you see what is happening and track your goals. You may see patterns you want to change, and patterns that show your progress. Keeping a diary can also trigger a positive response, because when you write an entry, you'll have the opportunity to think about your choices.
All this information can help you plan strategies to address any problems. Explore: Overcome Your Obstacles to Healthful Eating: Discover Your Solutions! and Overcoming Barriers To Keeping Records.

There are many ways to record your daily food or activity choices. Experiment with different methods until you find the one that works for you. Included in this section are several different types of journals.
It's important to find a system that works for you because you're the one who has to be able to sustain the practice. So keep it fun & simple. You could begin by:
Just being more aware of your daily lifestyle choices.

Or you might write foods down in a small spiral notebook.

You could jot down food choices and the amounts (perhaps weighing and measuring to double check portion sizes)

If you find yourself stuck on a weight plateau, you might do calorie and fat calculations or use a computer analysis program (please see below at bottom).

If you find yourself eating because of emotions or moods, you might keep a "food and mood" journal to see your patterns.
Choose journal tools that support your awareness and ability to untangle patterns and then practice positive substitutions that can work for you.
Try the forms below—if you like one, you can print off the page. Forms can also be combined to meet your particular needs.

For any kind of food record-keeping, you may find it helpful to:
Keep your record and pen in the area where you usually eat.

List the foods and the amount you eat as soon as possible after you eat them.

Check the nutrition label for total calories and fat calories—or look up the information in a calorie counter reference. To calculate your percentage of calories from fat at the end of each day, add up the total calories and the total calories from fat in all of the food and beverages you've had. Divide total fat calories by total calories for the percentage.

Compare your food intake with your calorie and nutritional goals.

If you choose to keep track of the total energy (calories) you may begin to understand why the scale might not go down. Investigate too: Volumetrics and Which Puzzle Pieces Contribute to Your Overweight?
Scott & Charlene's Weekly Food Check Off Diary: Small, but mighty!
Water

qqqqqq

qq

Fats

qq

qq

S

Starch

qqqqqq

qq

Protein

qqqq

qqq

Vegetables

qqqqq

qqq

Dairy

qq

q

Fruit

qqq

q

Sweets

q

Water

qqqqqq

qq

Fats

qq

qq

M

Starch

qqqqqq

qq

Protein

qqqq

qqq

Vegetables

qqqqq

qqq

Dairy

qq

q

Fruit

qqq

q

Sweets

q

Water

qqqqqq

qq

Fats

qq

qq

T

Starch

qqqqqq

qq

Protein

qqqq

qqq

Vegetables

qqqqq

qqq

Dairy

qq

q

Fruit

qqq

q

Sweets

q

Water

qqqqqq

qq

Fats

qq

qq

W

Starch

qqqqqq

qq

Protein

qqqq

qqq

Vegetables

qqqqq

qqq

Dairy

qq

q

Fruit

qqq

q

Sweets

q

Water

qqqqqq

qq

Fats

qq

qq

T

Starch

qqqqqq

qq

Protein

qqqq

qqq

Vegetables

qqqqq

qqq

Dairy

qq

q

Fruit

qqq

q

Sweets

q

Water

qqqqqq

qq

Fats

qq

qq

F

Starch

qqqqqq

qq

Protein

qqqq

qqq

Vegetables

qqqqq

qqq

Dairy

qq

q

Fruit

qqq

q

Sweets

q

Water

qqqqqq

qq

Fats

qq

qq

S

Starch

qqqqqq

qq

Protein

qqqq

qqq

Vegetables

qqqqq

qqq

Dairy

qq

q

Fruit

qqq

q

Sweets

q

Calories: Starch = 80 Fruit = 80 Dairy = 90

Vegetables = 25 Fats = 45 Protein = 75
For a PDF page (4 diaries/page) which can be cut in 1/4's: Scott & Charlene's FOUR Weekly Food Check OFF 3x5.pdf
This diary is about 3 X 5" and is for a complete week. How to use it: You can just check off a serving from the various food groups. To find out what counts as one serving--a "reference" amount for different foods visit Kaiser Permanente's Weight Loss For Health Pyramid. Check them off after you eat them: Starch, Fruit, Dairy, Vegetables, Fat, and Protein, and sweets. The "grayed out" boxes indicate the upper range of each food group. For example the "starch group" is variable from 6 - 8 servings, or the "fruit group" goes from 3 - 4 servings, the "dairy group" goes from 2 - 3 servings, etc. If you choose the lower amount from each group you will get around 1300 calories, or if you choose the maximum amounts from each food group, you will get around 1800 calories.
On the back of the form for each day, if desired, you can record the actual foods that you ate. This is a great way to remember exactly which foods you ate as well as the numbers of servings.
For a PDF Food Diary Check-Off, Exercise, and Goals Diary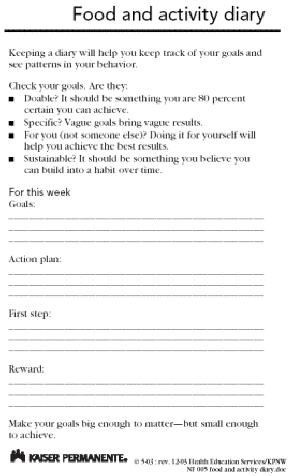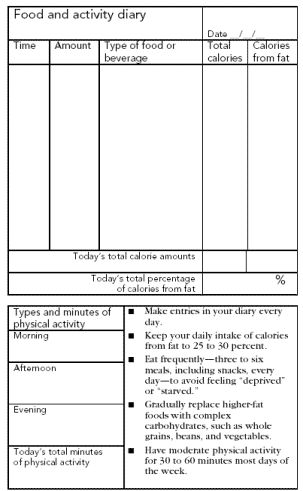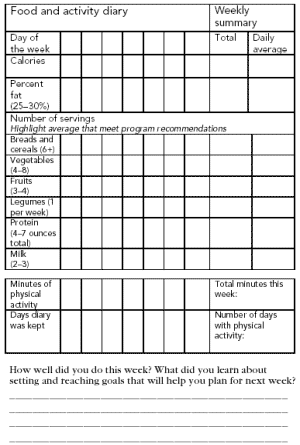 To print off the Food and Activity Diary from above, click on: Food and Activity Diary.pdf
To download Adobe Reader 7.0.

To print off the: NF 022 eating plan checklist.pdf
To print off the: Daily Healthy Food List.pdf
To print off the Weight-Management for Health Pyramid: Weight Management Food Pyramid diary.pdf
Visit Kaiser Permanente's Weight Loss For Health Pyramid for examples of what counts as one serving
© 2004, Kaiser Permanente Northwest Health Education Services, Cultivating Health™
To print off the Your Foods, Plans, Feelings, and Activity Diary Weekly Summary.pdf
Two other formats from Jerry:

and

There are alternatives to using these forms. You may want to:
Keep records in your personal calendar, or use a notebook or blank journal, or perhaps develop your own spreadsheet.
You could use a computer nutrition analysis programs below to keep track of activity and nutrient composition.
Actual Diary Examples from Bob

See examples below:
www.Dietpower.com Has charts and graphs track food (easily add your own foods) & exercise with tips; provides suggestions to correct nutritional deficiencies; analyzes recipes, very easy to use; 15-day free, trial Comes with a lifetime money-back guarantee. Cost about $50 (but has sales). It's a wonderful program! I use it myself for many years. Check for the newest version. A new on-line version and app will becoming out later this year.
Super Tracker: https://www.choosemyplate.gov/supertracker/

This is a very helpful evaluation program that compares your daily intake to Dietary Guidelines. It will also calculate your nutrient intakes and compares them to the recommended intakes for your gender, age, and activity level. I did find that the Estimated Energy Requirement (EER) was high (and was for maintenance--not weight loss), however it does provide some very helpful feedback.

www.myfitnesspal.com My Fitness Pal
www.tapandtrack.com Nanobit software
www.loseit.com FitNow, Inc.
www.fitday.com Explore your eating patterns with a free Web program and a PC version to evaluate and transform your eating and activity patterns
www.sparkpeople.com Spark People is enjoyed by many people.
www.thedailyplate.com The Daily Plate costs $9/month.
www.calorie-count.com Calorie-Count
www.my-calorie-count.com Everyday Health Network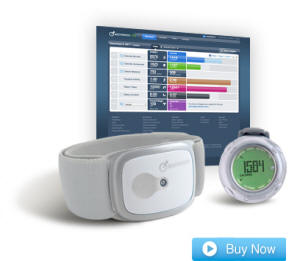 The BodyMedia FIT system gives you highly accurate information on activity, calories and sleep patterns – the most accurate in the market. Clinical study results show it can improve weight loss up to 3x*! BodyMedia FIT is an on-body monitoring system that consists of the BodyMedia FIT Armband monitor, online Activity Manager**, an optional Display and free downloadable apps for mobile device users. BodyMedia FIT Armbands automatically track the calories burned during your daily activities — from pumping iron to using an iron — and monitor the quality of your sleep, an important factor in weight loss. The information tracked can easily be managed with BodyMedia's online Activity Manager. Add in the easy-to-use food log and you have the right information to improve your weight loss.*Data on file; **Subscription required.
Here are some links from our website that will give you some further information: