Planning a Better Menu and a Healthier Way of Eating: Where & How to Start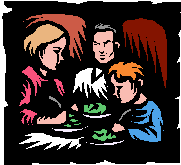 The suggestions below encourage making one small change, week by week. Gradually modify your style of eating. Consider keeping a food journal to notice your normal eating habits. Then begin making small changes in what you normally eat.
What To Do:
After following the suggestions in the charts below, then review the ideas for breakfasts, lunches, dinners, and snacks. See if any ideas are appealing to you. Come up with a plan and try them out. One week, perhaps focus on breakfasts. Then, the next week look over ideas for new lunches. The next week you might try out some new snack ideas. Then, you walk on the WILD SIDE!! You try out new ideas for dinners. You'll like some ideas and won't like others. It's an experiment. Just keep trying out new foods.
If you try out ONE new idea each week, in one year you will have implemented 52 new foods into your new eating style. If you do that for 2 - 3 years, you will have explored over 150 new food options. You will find it won't be overwhelming, and it can be as natural for you as how you acquired your PRESENT way of eating.
A new style of eating is found ONE NEW RECIPE or food idea at a time. As you try out more and more new foods, you will find that you have easily transformed your former way of eating into one that naturally supports life-long new healthful eating habits. Have FUN as you explore new tastes! Frolic around CELEBRATE Healthful Eating! Yum! Make It FUN. Make It Colorful! Bon Appetite!
You will see how easy it is to reduce calories, saturated fat, sugar, and sodium, while increasing other nutrients and fiber. You can do this NOT by focusing on reducing those specific nutrients, but by gradually transforming your food choices. All of the suggestions on this Web site support this new style of DELICIOUS, healthful eating. Yum, yum!
Visit also What Does Bob Typically Eat In Any Given Day? to see how I applied these ideas.
The Power of One Dietary Change in Losing Weight
12 Easy Ways to Eat 100 Less Calories Per Day
http://lancaster.unl.edu/food/onedietchange.pdf Taken from the Food Reflections Newsletter: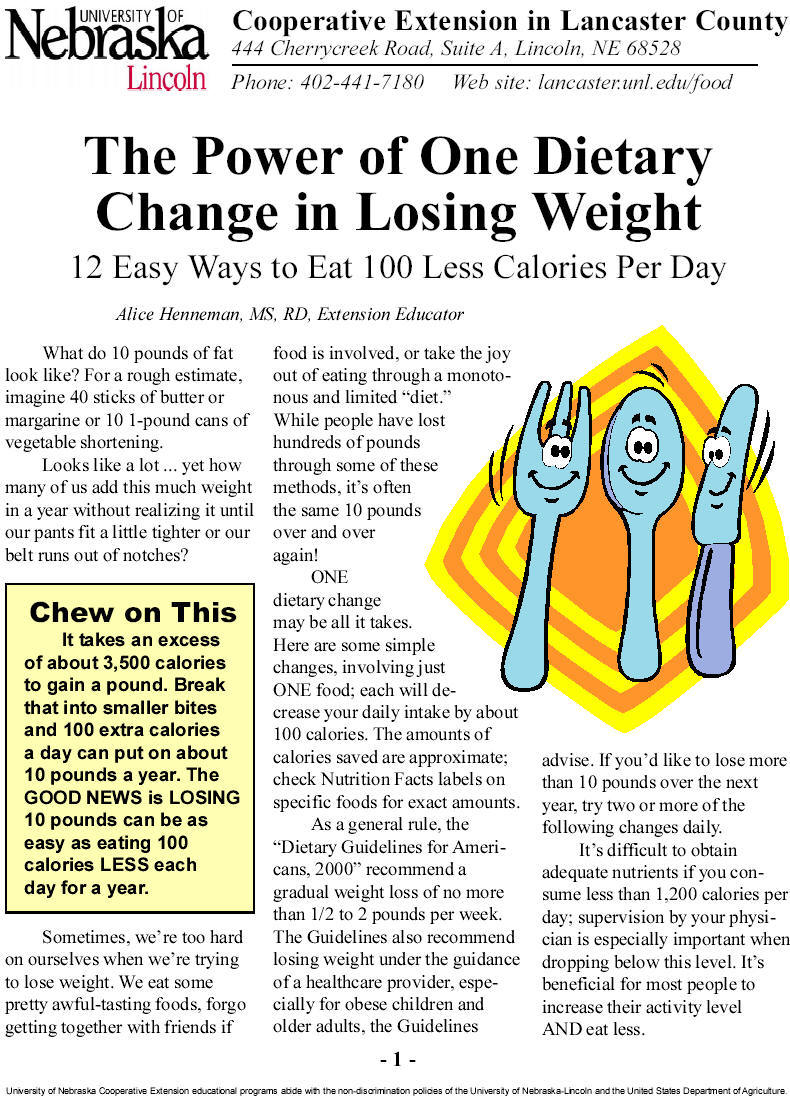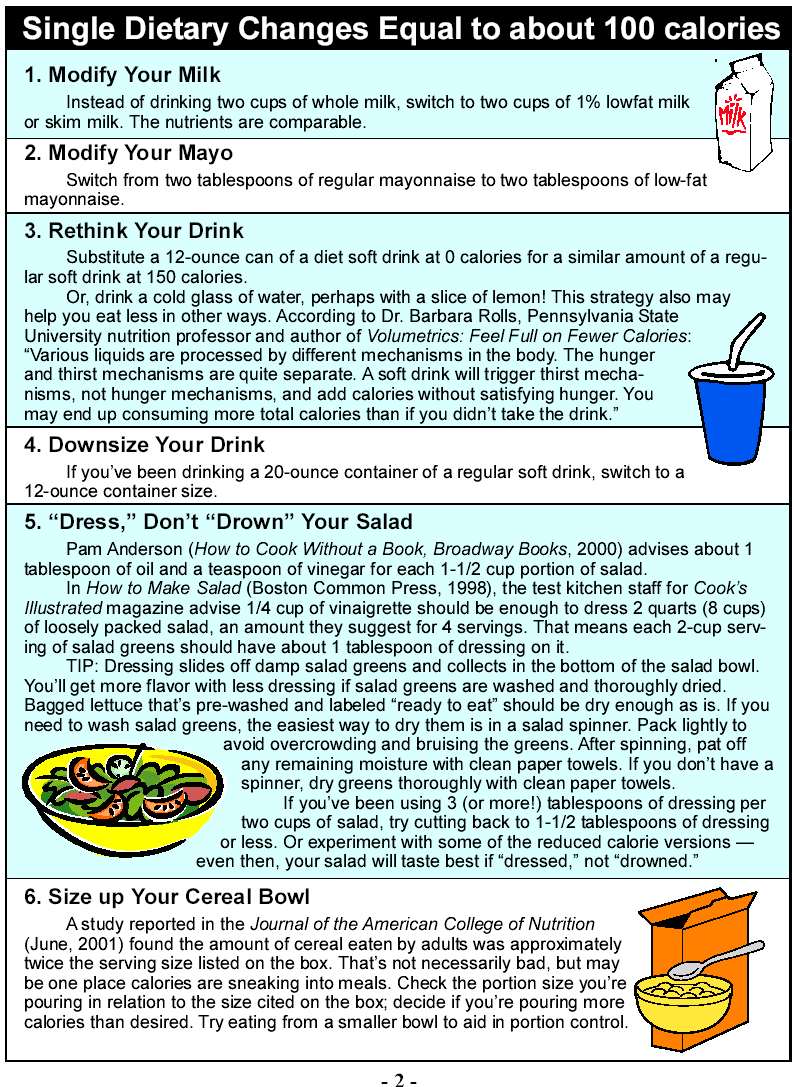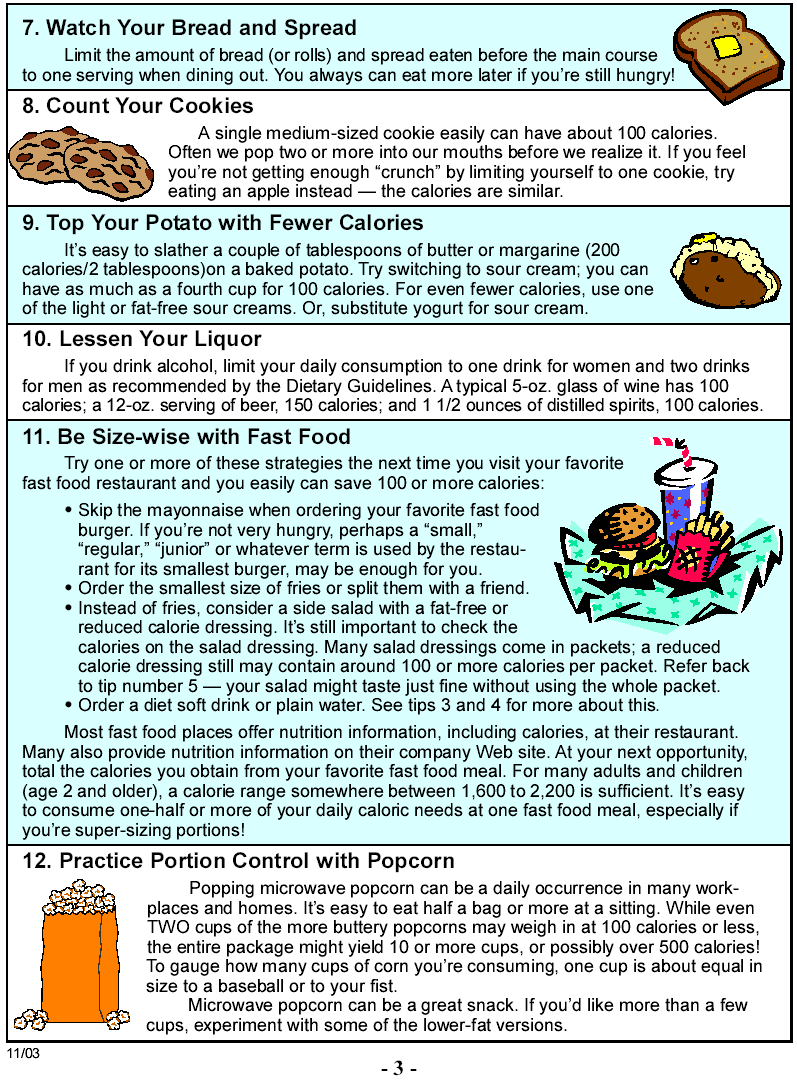 MAKING HEALTHIER CHOICES
Remember: Fruits & vegetables are FULL of wholesome nutrition!!