Return to Delicious Dinner Recipes
Quick Menu Ideas for Home and On The Go
Build up your pantry so you have the basics on hand.
Savor over: Making Quick Dinners: Dinner? What's Quick and Easy? My favorite category is the "Bar" category: the salad bar, taco or burrito, or potato bar. Also check out Delicious Dinner Recipes.
Bob's Italian "Everything but the Kitchen Sink" Salad Here's my favorite salad! I keep this salad in the refrigerator at all times. It serves as the base for many quick meals and is a terrific way to eat more veggies! I also find it to be delicious to add cooked veggies (Marinated Italian Vegetables or Steamed Marinated Vegetables below) on top of the raw salad. Top with kidney or black beans, reduced fat cheese and Garden or Boca Burger® or turkey cotto salami. Mama Mia! Or, to above recipe add canned salmon or tuna and fat-free Miracle Whip®

Chop up (or use bagged mixes) and put together a quick green salad with lots of fresh vegetables (see Bob's "Everything but the Kitchen Sink" Salad) and serve with whole wheat spaghetti or rotinni pasta and bottled spaghetti sauce. Add some ice water to drink and fruit for dessert. Yum! Consider creative garnishing!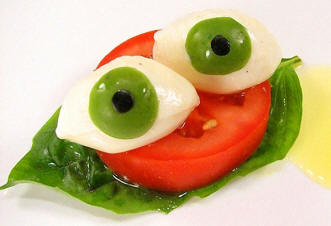 Chop up some fresh vegetables (or use some delicious frozen vegetable mixtures) and make into a stir fry. Add the meat from 1 - 2 chicken breasts or firm tofu (or tempeh). For seasoning add garlic, grated ginger, and teriyaki sauce.

Make a soft shell taco or burrito with canned black or salsa refried beans. Use LOTS of chopped lettuce, red onion, tomatoes, and salsa. This is one of my favorite meals.

Steam or microwave fresh fish with lime or lemon and red onion slices. Serve it with any one of many varieties of frozen vegetables and whole wheat rotinni pasta or brown rice.

Potato bar: Cook (microwave or boil--can cook up extras to keep on hand) small red, purple, Yukon gold potatoes. Top with a variety of toppings: lowfat cottage cheese or other cheese, steamed broccoli or spinach, salsa, lowfat chili, soup, or Bob's Delicious Marinated Italian Vegetables

Explore Stoveless Meals

Walk on the WILD side and try out: Breakfasts for the Whole Family, Lunches for Kids and Adults , or Nutritious and Yummy Snacks and peruse What Does Bob Typically Eat In Any Given Day?

On The Go: Bob's Strength -Training Food Bag!