<![if !vml]>

<![endif]>
High self esteem = self respect
Your thoughts or attitudes are powerful factors in becoming more fit and healthy. Negative self-talk can lead you to view your self and your life in a distorted way. You may generalize your negative thoughts from one area of your life to another, and drag yourself down until you feel like a total failure. Positive self-talk provides you with emotional nutrients and it is essential if you are going to be successful in your life. Learning how to be your own rooting squad is vital.
High self esteem is a feeling "I'm glad to be me!" How is it built? From the materials available in our environment--just like an Eskimo igloo house. Our self picture is made up of the reactions of the significant people in our lives to each of us. Check out the Windows Media Audio file below.
Self image is learned. Each of us see ourselves through the images received from others. Every baby is born with the potential for high self esteem. What you believe can either open or close doors for you.
Thoughts and inner attitudes are what we learned from those around us and we can change them! We learned them from:
Verbal programming from others and what we say to ourselves
The modeling of others
Specific events that happened to us
If you're full of self doubt, you'll always have to prove your worth to you because you'll feel inadequate. You'll find yourself being very driven (type A--perfectionist), always seeking for validation from outside of yourself, because you don't feel whole and complete, just as you are. You might feel at a deep level very inadequate. Low self-esteem (self doubt) is painful. You may find yourself driven to anesthetize yourself by using various addictions (food, drugs, sex, alcohol, or over achieving to feel OK or worthwhile). Notice how you feel right now. To help understand how you were habituated to feel the way you do, read on...
Every child builds..."the HOUSE OF SELF"...and calls the package "me." High self esteem is made of two beliefs:
1. I am loveable! No matter what I say or do.
2. I am capable and competent. I can handle my world and I have something to offer.
<![if !vml]>

<![endif]>
Competence makes up the roof and walls of the house.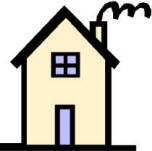 Lovability is the foundation.
So how do we create our deep inner feeling tone about ourselves and our lives and how can we change it?
Your inner worldà leads toà your outer world!
Steps That Control Our Success or Failure
It all starts with our programming! What we have accepted from the outside world or fed to ourselves. It is our programming that sets up everything. Although everything feels SO solid, it all CAN be changed!
<![if !vml]>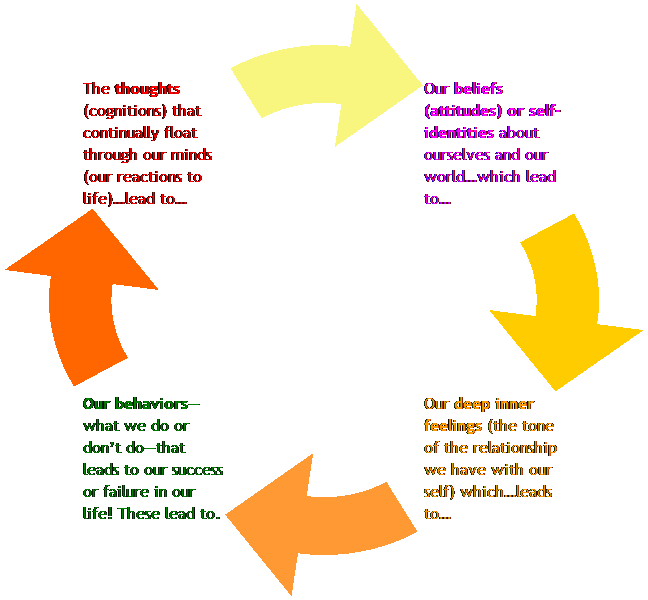 <![endif]>
Five Things Needed for Growth and Change
Awareness

. Without awareness there is no choice. We're just living on autopilot.

Tools

: books, workshops, and new life experiences

Willingness

: begin to do the work; we're ready to go!

A decision to act

: we chisel away that which hinders us

Practice

: it takes LOTS of practice!
Self-talk is a way to override our negative programming by erasing or replacing it with conscious, positive new directions.
To hear a Windows Media File

with some ideas click on picture.
What can you do to enhance your own self esteem? Become a loving, nurturing inner parent--to you! Take time to notice all the things you do right during the day. Give yourself permission to get on your own side. If you're not for you, who will be?
When you wake up: go to the bathroom and go to the mirror and say, "Good morning honey. Hi sweetie! I love you. I love you as you are and as you are becoming." Say these things just as you would say them to a friend who you really cared for.
See the miracle of you! can you be a loving parent with you and see what is, not what isn't? Essentially, have a "rooting section or squad" in your head for you: "Go for it, you CAN do it!" Can you be for you? Consider being unconditionally supportive and look for the plusses!
Frolic around and investigate all of the articles in this section of the Website to plant the seeds of a new loving relationship with yourself!
Remember...
Self-esteem comes into being by what we or other people say to us (our unconscious inner messages) and
self-esteem is also developed by what we DO for ourselves, by our commitment to meeting our daily needs.
Sprinkle Dollops of Delight and Self-Care Towards Yourself

To explore some wonderful resources:

Celebrate Your Self - Making Life Work For You (Your Child's Self Esteem), by Dorothy Corkille Briggs, (1986), Main Street Books. I found this book to be really helpful. I read both of these books extensively. They were wonderful. They helped me understand why I hated myself and how I could begin to change. They are also available used for very reasonable prices.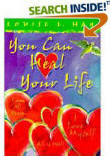 You Can Heal Your Life" is a beautifully written and illustrated book dealing with self-discovery. It is a stepping stone in finding the real person you are and exploring ways that will lead to a more peaceful and happy life. Often, we are our own worst enemies with imaginary fears of what the future will bring, or we are dwellers of our past mistakes, regrets and misgivings. The importance of discovering and accepting our true self for who we really are, and the search for a more fulfilling life, are explored among the pages of this book. I used this book extensively and found it to be quite amazing and really helpful. Check out