The Grace Of Eating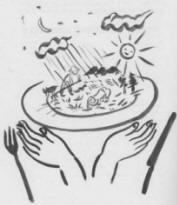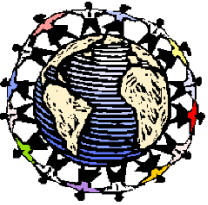 In this food,
I see clearly the presence
of the entire universe
supporting my existence.
Taken from Present Moment Wonderful Moment by Thich Nhat Hanh
Food. The Magical Gift--Eating is essentially an act of communion
with the living forces of nature.
We often take it for granted. We forget that food is precious.
Let us bless the source of life that brings forth bread from the Earth, let our lives be a blessing to the Earth that sustains us, and to all the creatures that, like us, call this planet home.
A Grace Before Our Meal
In this food we see the mysterious creativity of nature and the hard work of the countless people who participated in producing it, to whom we give thanks. Just as this food provides sustenance to us, may we, through our work and our moment to moment interactions, help to benefit others. Bon appetit! Provided by Jon Dickman
Kiss the Earth
By Thich Nhat Hanh
Walk and touch peace every moment.
Walk and touch happiness every moment.
Each step brings a fresh breeze.
Each step makes a flower bloom.
Kiss the Earth with your feet.
Bring the Earth your love and happiness.
The Earth will be safe
when we feel safe in ourselves.
Adapted from Thich Nhat Hanh: Buddhism in Action, by Maura D. Shaw (Skylight Paths, 2004). Shared by my friend Michelle.
Kiss The Earth and Walk as You Touch Peace in Every Moment!

Taking time to say grace not only blesses the food, it blesses the people who take the time to say it.
Bless this food.

Bless these people.

Bless this house.

Bless this world.

We give thanks for this food.

We give thanks for each other.

We give thanks for our lives.
Adapted from: May All Be Fed, by John Robbins
Before eating, practice breathing to calm down:
Breathing in, I calm my body.

Breathing out, I smile.

Dwelling in the present moment,

I know this is a wonderful moment!
Taken from Present Moment Wonderful Moment by Thich Nhat Hanh
The Four Gratitudes: to parents, teachers, friends, and all organic and inorganic species that support and enrich our lives.
Taken from Present Moment Wonderful Moment by Thich Nhat Hanh
Five Contemplations before Meals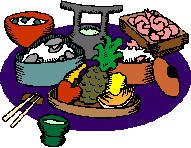 1. I contemplate how many blessings I have accumulated in order to receive this food given by others.
2. I contemplate my own daily practice (of generosity, ethics, kindness, patience, gentle awareness, healthful choices, joyous effort, and compassion), constantly trying to improve it.
3. I contemplate my mind, cautiously guarding it from wrongdoing, greed, and other spiritual and emotional defilements.
4. I contemplate this food, treating it as wondrous medicine to nourish my body.
5. I contemplate the aim of spiritual, mental, and emotional evolution, accepting and consuming this food in order to accomplish it.
By seeing this food as medicine, I will consume it without attachment or hatred, not to increase my arrogance, strength, or good looks, but solely to sustain my life.
May all those who offered me food attain happiness of total peace. May all those who offered me drink, who served me, who received me, who honored me, or who made offerings to me attain happiness which is total peace.
The five contemplations and other thoughts are from Thubten Chodron (www.thubtenchodron.org.) Slightly edited.
Finishing Your Meal
The plate is empty.
My hunger is satisfied.
I vow to live for the benefit of all beings.
Consider dedicating everything in your life for the benefit of all people: Dedication for a Meaningful Life
Contemplate also: Essential Skill #7: Eating With Awareness and Pleasure: Learn how to eat less but enjoy it more as you remember that it's NOT your last meal. You will be able to eat again! Slow down and savor the flavor of food. Treat every bite as a gourmet feast. The more time and attention you give to food the more satisfying it is.
Additional Resources: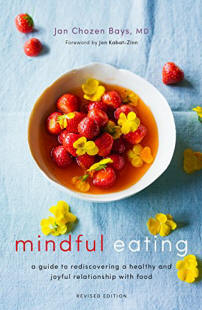 From Amazon
This terrific book explores the 7 types of hunger and how to develop an healthy relationship with food. It includes a audio CD with many excellent guided practice sessions. 2019 SACRED EATING WORKSHOP-CHOZEN BAYS.pdf Also available from Great Vow Monastery https://www.zendust.org/ If you are ever in Oregon you could visit the monastery for a Sacred Eating workshop (Friday pm-until Sunday) that is excellent.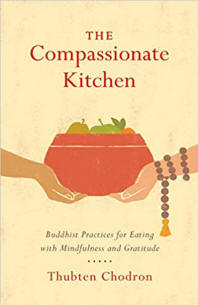 The Compassionate Kitchen: Buddhist Practices for Eating with Mindfulness and Gratitude
Paperback
Every aspect of our daily activities can be a part of spiritual practice if done with compassion—and this compact guide offers wisdom from the Buddhist tradition on how eating mindfully can nourish the mind as well as the body.

Thubten Chodron, abbess of Sravasti Abbey in Washington state, shows us that eating and activities related to it—preparation of food, offering and consuming it, and cleaning up afterward—can contribute to awakening and to increased kindness and care toward others.
Chodron offers traditional Buddhist teachings and specific practices used at the Abbey, along with advice for taking the principles into our own home in order to make the sharing of food a spiritual intention for anyone. By eating consciously and mindfully—and by including certain rituals—we find ourselves less obsessive about food and can enjoy our meals more. To buy it: https://www.shambhala.com/compassionate-kitchen.html
Learn more about The Compassionate Kitchen
Read another short excerpt on the Abbey website
See the review in Tricycle Magazine
See the interview and story at Religion News Service
Watch Ven. Chodron's talk on the book at American Evergreen Buddhist Association's Chi-Yuan Temple, Kirkland, WA, November 2018
The CAMP System is a new, powerful and different approach to finding balance with food and eating. Named for its components—Control, Attitudes, Mindful Eating and Portions—CAMP is a way of eating that emphasizes how you eat, not what you eat. If you are unhappy with your present relationship to food, the CAMP System could be your lasting solution. Visit http://www.mindfuleating.net/ There you will learn many strategies and techniques to bring mindfulness to your eating every day!
Explore the principles for mindful living & eating. It is a wonderful summary of the principles that I share on this Website: Principles of mindful eating, one page handout.pdf The Center for Mindful Eating www.TCME.org
Intuitive Eating, by Evelyn Tribole, M.S., R.D. and Elyse Resch, M.S., R.D., (2005), St. Martin's Paperbacks. Includes: 10 principles: Hitting Diet Bottom, Discovering What Kind Of Eater You Are, The Principles Of Intuitive Eating: Overview, Suggestions To Awaken The Intuitive Eater, And Ideas To Reject The Diet Mentality, Honor Your Hunger, Make Peace With Food, Challenge The Food Police, Feel Your Fullness and Discover The Satisfaction Factor, Cope With Your Emotions Without Using Food, Respect Your Body, Exercise—Feel The Difference, and lastly, Honor Your Health—Gentle Nutrition. The book is a wonderful resource to discover the pleasures of eating, honor your hunger and feel fullness. To explore her 10 Principles of Intuitive Eating and her website.
Peace Is Every Step (1991),The Miracle of Mindfulness, by Thich Nhat Hanh, (1976), Beacon Press, Boston In Thich Nhat Hanh's book Present Moment Wonderful Moment--Mindfulness Verses for Daily Living*, Parallax Press, (1990). See also Parallax Press Resources for Mindful Living: http://www.parallax.org/ *From the introduction: This book contains short verses to help us dwell in mindfulness. We often become so busy that we forget what we are doing or even who we are. We forget to look at the people we love and to appreciate them...we don't know how to get in touch with what is going on inside and outside of ourselves...To meditate is to be aware of what is going on in our bodies, our feelings, our minds, and in the world. This is a delightful book that promotes a feeling of joy and of the sacredness of life.
The Zen of Eating, by Ronna Kabatznick,Ph.D., (1998), By The Penguin Putnam, Inc., www.Penguinputnam.com Ronna's book isn't just about losing weight, it's about transforming emotional hungers. She explores the roots of our eating issues. She delves into suffering, attachments to desire, how to end emotional hungers by letting to of attachment to desire. She also describes a path of living that brings that about: right understanding, right aspiration, right speech, right action, right way of living, right effort, right mindfulness, and right concentration--turning obstacles into opportunities!