Invest In Yourself: Invent A New Life!
Celebrate stretching yourself towards new dimensions of wellness:
I stretch myself to the highest levels of health and well being.
I stretch myself to my greatest possibilities.
I open myself up to infinite blessings, goodness and harmony!
This very day I open up my innermost heart to truly LOVE myself.
I SAY "YES" TO LIFE TODAY!
GOSH, I'M GOOD!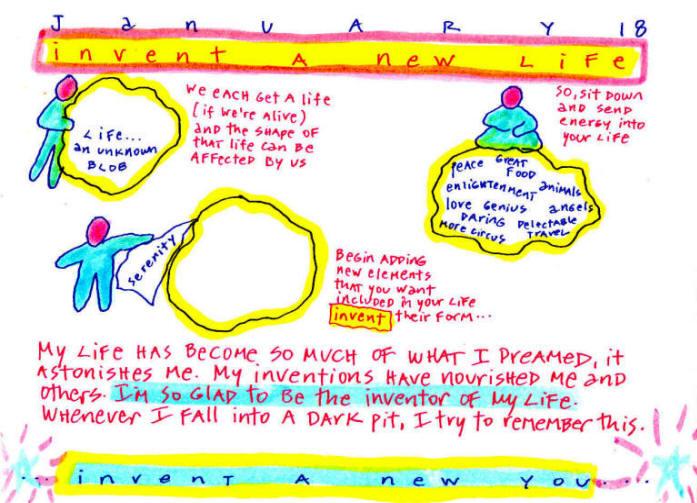 Prescription for Well-Being! and Imagine Your Ideal Day!
VISUALIZE YOUR IDEAL DAY...WHAT WOULD BE PART OF IT?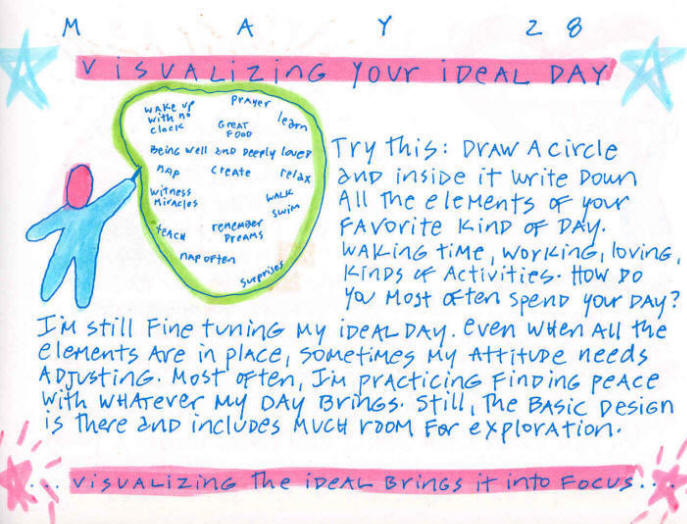 These lovely drawings are from Living Juicy-Daily Morsels For Your Creative Soul, & The Bodacious Book of Succulence by Sark (1994), Celestial Arts, Berkeley, California. See Ten Speed Press for many excellent publications: http://www.tenspeedpress.com/catalog/tenspeed/index.php3 For a catalog from SARK, call: (800) 841-BOOK. These books are SO MUCH FUN and are delightfully colorful! www.campsark.com (Please note that I have added high-lighting colors to the above drawings.)
ASK: Are YOU "on your list" of people you care for?
Start where you're at and INVENT A NEW LIFE! VISIONS INTO REALITIES, YOU MAKE THE DIFFERENCE....

Take a minute--mentally review your day tomorrow:
- How will you include quiet time?
- Connection with others?
- Healthy food management?
- Delicious movement of your wondrous body?

Perhaps consider different areas:
1. Delicious lowfat, healthy eating plan:
- Food purchase? Preparation? Carry along?

2. Enjoyable body movement plan:
- Daily activity (30 minutes +)? Muscle Maintenance? Social/recreational fun?

3. Delicious self -nurturing plan. What would put a SMILE on your face? What makes you GLAD to be alive?
- Professional or community support? Family? Friends? Hobbies? Doing-nothing time?

4. Quiet time--developing spiritual sanctuary.
- Prayer & meditation...time just "to be" and not "do"
- Pause, think and evaluate, "How is the creation of your life going?"

5. 8 hours of sleep (more or less) and naps!


What might be an obstacle or road block for you that could get in your way from having your ideal day?
Remember back to a time in your life when you had mastered this area.
What were you doing at that time? How could you do that again now?


How could you eliminate the road blocks or minimize their impact to you?


Personal Action Plan
What will I DO, with the information on this Web site?

My Small Steps To Success Are....
*
*
*
Be in AWE of your natural ability to bring beneficial changes into your life!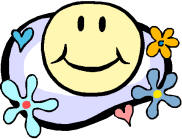 Cultivate the attitude of discovery, appreciation, and FUN for your journey!
To discover some helpful ideas and suggestions, pay a visit to other sections of this Web site:
<![if !vml]>

<![endif]>