Self-Nurturing Restorative Box
<![if !vml]>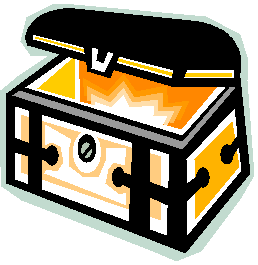 <![endif]>
The self-nurturing treasure chest box consists of items that appeal to the 5 senses: Sight, Smell, Taste, Touch, and Sound…and they help us to restore ourselves.
Find your favorite items and keep them in a box. During times of stress or other emotional triggers, the box serves as another way to self-soothe in place of turning to food or other unhealthy choices.
The following are some examples:

Sight: an inspirational photo, a comic strip, a card from a dear friend, meditation book, chalk, or bubbles
Smell: potpourri, incense, scented candle, perfume, or a dried rose
Taste: flavorful herb tea bag, a piece of gum or sugar-free candy, or candied ginger
Touch: a rabbit's foot, stuffed animal, squishy stress ball, Little Fur Family book
Sound: Music or Book from a CD or i-Pod, small music box, sheet music, a squeaky toy, or a kazoo
How about for you?
Sight:
Smell:
Taste:
Touch:
Sound:
OR (what would put a smile on your face and make you glad to be alive)?
To print off a PDF of this exercise, Self-Restoration Box.pdf
Perhaps explore:
Adapted from ideas from Jessie Hahn © Bob Wilson www.balancedweightmanagement.com